The Bay of Arcachon is well known by the French and foreign population but do they really know what the Bay of Arcachon is? It is a lagoon, "Laca d'Arcachon" in Gascon, located in the Landes de Gascogne, in Gironde, between the towns of Arcachon to the south, Cap-Ferret to the west and the Leyre delta to the east.
The Bassin d'Arcachon is therefore renowned for its atypical tidal "system". When it is time for low tide, the Basin empties to leave a natural landscape where time seems to have stopped. Only the beaches of Arcachon to the south and Cap-Ferret to the north of the Basin are not affected. There is always water. As time goes by, the water comes back to cover the whole of the Basin…
Feel like swimming during low tide? The communes are adapting and have created natural seawater pools. The largest in Europe is in Audenge, on the oyster port. Discover this creation, which is particularly suitable for swimming in 100% natural water.
This feature is the pride of the people who live in Le Bassin.
Composed of 12 communes, the Bassin d'Arcachon is a territory united by an exceptionally rich living environment.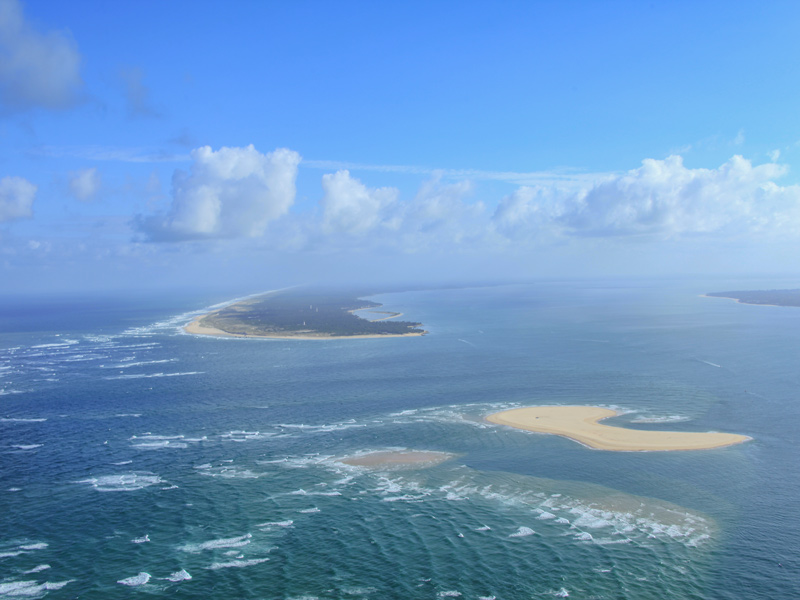 Its natural setting, so precious in its diversity, will be accessible to you via the network of cycle paths, allowing you to enjoy the forest and the beach without wasting time. You can enjoy mornings in nature on the Mesples pond and sunsets on the Dune du Pilat.
Renowned or confidential, go and discover the typical ports of our region, let yourself be tempted by a walk at sea, and taste the product of the local culture; the oyster.
Halfway between Cap-Ferret and Pyla-sur-Mer, our town offers you quick access to the highlights of the Basin, from Audenge everything is possible!
The Bassin d'Arcachon is a group of communes that work in unison to offer you the holidays you deserve, a stay of excellence. We encourage you to find our recommendations at the following addresses:
Official website of the Bassin d'Arcachon : bassin-arcachon.com
Coeur du Bassin Tourist Office : tourisme-coeurdubassin.com