OPENING FROM FRIDAY APRIL 7th TO
SUNDAY SEPTEMBER 24TH 2023
FREE PRE-SEASON AND POST-SEASON APPLICATION FEES
Welcome
Campsite of Arcachon Bay
3 stars Le Braou
Camping holidays at the Bassin d'Arcachon are synonymous with a peaceful getaway in harmony with nature. On the fine sandy beaches of the Atlantic Ocean, shellfish from the Gironde and oysters from Arcachon are spread out to the rhythm of the tides. Take a break from time, in the sea spray of the west coast of France, between land and sea, in a 3-star campsite on the Bassin d'Arcachon. In Audenge, at Le Braou campsite, the comfort of a complete infrastructure is at the service of an authentic seaside stay.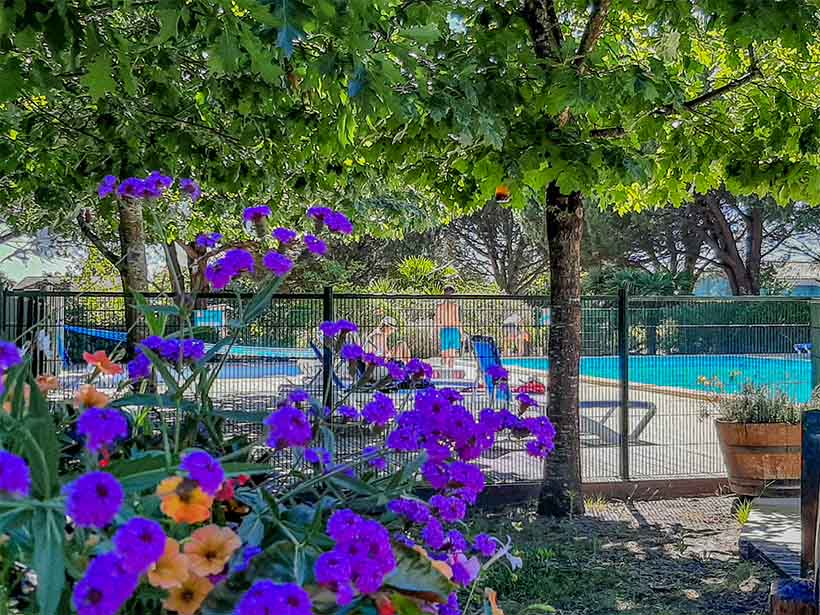 #1
Heated swimming pool
April to September
#2
FOR THE LITTLE ONES:
Playground & baby kit
#3
A SNACK BAR & BARBECUES available
#5
Pet Friendly ! Animals are allowed (except for categories)
Discover your campsite
at the Arcachon Bay
Your soothing swim in our heated pool
Imagine, after a nice bike ride around the Bassin d'Arcachon, under a spring sun, you can enjoy a swim and a nice relaxing break in the heated water of our pool. You can hear your children laughing out loud, they are happy and so are you…
As soon as you wake up, the calm of our heated pool is particularly pleasant. Even in the middle of summer, you can enjoy a leisurely swim or cool off on a hot summer afternoon. Before settling down on our sunbathe and perfect your tan while watching your children take their first dips in the water, you can enjoy the natural setting around you.
Discover the pool
#Sleep
Do you prefer camping holidays with your family, alone, with friends or as a couple? Mobile home or tent? Bungalow or motorhome? Chalet or caravan? Cocosweet or campground? Whatever your travel configuration, in rental or caravanning sites, you can only appreciate the 3 star services of our Camping of the Arcachon bay with reasonable prices. Our friendly team welcomes you in a friendly atmosphere and in a complete infrastructure that looks like a holiday temple!
your nature activities for a relaxing stay
5 hectares of land with a multitude of pine trees which give our campsite a calm, local atmosphere and a natural spirit.
The low season is the ideal time to discover the region in complete tranquillity. You will have the opportunity to offer your children that horse riding trip they talk so much about, to go for a nice bike ride or walk from the campsite to the Domaine de Graveyron or the Domaine de Certes, you can feel like real explorers during a canoe trip on the Eyre river or get a change of scene during a shell collecting activity on the beach accompanied by a naturalist guide.
In high season, your holiday will kick off with our welcome drink, while your experience with us will be punctuated by the workshops offered by the Kids' Club and the Teenagers' Club, as well as by our themed evenings: karaoke, dance evenings, blind tests, quizzes, etc. There will be something for all tastes, for young and old!
We put all the services at your disposal to offer you a most comfortable stay and rich in activities in Arcachon.
The Arcachon bay, an exceptional site
A popular area for sea lovers, the Bay of Arcachon is a tourist site with exceptional and unusual landscapes!
You will be enchanted by the Ornithological Reserve of Le Teich, a preserved area where wild birds are king. The Dune du Pilat offers a breathtaking view that makes it look like paradise.The town of Audenge, with its oyster port and its natural swimming pools will meet your expectations of a natural holiday. The seaside towns of Arcachon and Andernos will provide the entertainment for your stay, while Cap Ferret, with its unmissable lighthouse and inimitable oyster-farming villages, will also seduce you with their charm.
It must be said that in the heart of the Basin, the choice of outdoor activities is vast and often related to the unique geographical configuration of this lagoon of the Landes de Gascogne. Staying at a campsite in the Bay of Arcachon allows you to enjoy the beach, the nearby ocean and the good weather, but also the charm of the many fishing ports and oyster farming villages in the vicinity. Add to this the discovery of major tourist sites of interest such as the Dune du Pilat – or Dune du Pyla -, the poetic Bird Island in the centre of the Bassin d'Arcachon Marine Nature Park, the curious Arguin sandbank, the salt meadows of Arès or the famous Cap Ferret with its unobstructed view of the Ocean and the Dune. These unique landscapes guarantee you a daily ecstasy during your stay in the camping in the Bassin d'Arcachon.
For easy access to all the charms around the Bay of Arcachon, the Municipal Campsite Le Braou allows you to enjoy an ideal location, right in the heart of the Bay, next to the Delta de L'Eyre. You can go for a boat trip, walk, ride a horse or cycle through the nature between the pines and the ponds, visit the small friendly towns of Gironde, swim and do water sports in the calm waters of the Arcachon Basin and the surrounding lakes, or in the waves of the other beaches of the Côte d'Argent. Hiking, fishing, canoeing, stand-up paddling, surfing, windsurfing and all kinds of water sports and outdoor activities are waiting for you and allow you to fulfil all your desires!
#the Opinions
Very pleasant campsite Perfect welcome The people at the reception are very pleasant and professional The campsite is very clean and quiet I highly recommend See you soon Thank you
Marielle C.
A top class municipal campsite. Very spacious pitches and excellent sanitary facilities. Very quiet too. The pitches are varied, with tents, bungalows, canvas huts, chalets on stilts and camper van pitches. This creates diversity and is a good idea.
Patricia D.
Very good welcome, kindness and professionalism. The mobile home is very well equipped and clean. We had a very good stay being located near all the sites of the basin. The campsite was very quiet, even more so under the current circumstances, in short very pleasant.
Katy D.
Tres agréable Personnel tres sympathique !!
Top ! Super moment nous avons même prolonger d'un jour, a notre grande surprise la piscine était chauffée c'était cool. Pas grand monde, nous avons pu profiter ce dans ce cadre paisible ! Le camping était propre rien à re dire. ( Pour les commentaires des gens qui disent que c'est sale vous n'avez qu'à vous plaindre a vos congénères si les gens étaient plus propre et nettoyer derrière eux ils n'y aurait pas ce problème ! ) On reviendra sans hésitation. Bonne continuation à vous.
Superbe camping municipal avec piscine chauffée et piste cyclable à la sortie du camping
Nous avons eu la chance d'avoir le mobilhome top 🙏💃 parfait, acceuil bienveillant, tout était impec, en rentrant ( dans mon périgord noir 😞 ) j'ai donné l'adresse à tous mes proches 😉 merci pour tout 🙏😽😘
Brigitte bridget Crouzel
13/09/2022
Acceuil chaleureux,personnel à l'écoute et serviable,camping agréable,je le recommande...
evelyne aufrere
11/09/2022
Terassierter Campingplatz mit direktem Zugang zum Strand. Freundlicher Empfang, rustikale aber saubere Duschen und WC. Gerne wieder.
Super camping assez proche de la plage 3 min en voiture . Le personnel est vraiment très sympathique et accueillant. Très bonne expérience à refaire
Nous sommes venu du 2 au 5 septembre au camping et quelle belle découverte !!! Malgré quelques petits aléas ( très vite réglé par le personnel) nous avons passé un week-end extraordinaire même si les moustiques étaient un peu genant ! Ne vous fiez pas à l aspect du camping comme nous tous il a subi le soleil! Certes il n est pas parfait mais l ambiance est familiale, nous avons été très bien reçu. Le personnel est adorable , les mobil home très bien conçu. La piscine est très agréable et propre , a cet époque le camping est très calme c'est vraiment appréciable . Nous avons pas eu l occasion d'aller au snack mais il a l air sympa. Encore merci a l'équipe du camping pour ce super séjour vous êtes au top!!! J'espère a l'année prochaine
stay near exceptional places
Our friendly team welcomes you in a convivial and family atmosphere in a soothing structure that will make you feel immediately on holiday! Are you dreaming of a rental close to the most beautiful sites of the Bay of Arcachon?
Choose to stay in Audenge, in the heart of the Bassin d'Arcachon, a pretty authentic town with colourful huts, a charming little fishing port and natural seawater swimming pools, the largest in Europe!
Camping Le Braou
26 Route de Bordeaux
33980 Audenge